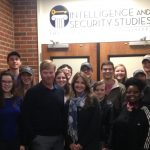 The Cipher Brief CEO visits CISS Students
Suzanne Kelly, the CEO and publisher of The Cipher Brief, a digital, security-based conversation platform that connects the private sector with the world`s leading security experts, visited with CISS students on Friday, December 7th.  Earlier this semester, CISS launched an exciting partnership with The Cipher Brief.  On October 4th, twelve students began producing a daily newsletter that aggregates important national security stories from the previous 24 hours and is delivered via email to subscribers each morning.  The Open Source Collection newsletter has received positive reviews from customers in the private sector, government, and academia.
Suzanne Kelly and her Vice President, Brad Christian, spoke with students about The Cipher Brief's mission and offered valuable feedback to the student contributors.  She also spoke about her career as a CNN Intelligence Correspondent and gave valuable advice to the students regarding internships and employment.
The Open Source Collection newsletter brings national and global security-related headlines from around the world.  For more information about The Cipher Brief, go to https://www.thecipherbrief.com/.
To sign up for the newsletter, http://www.thecipherbrief.com/newsletter-open-source.